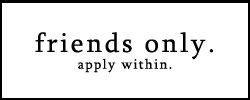 This journal is currently Friends Only.
That means, to read my entries, I have to friend you. If you would like to be friended, please leave a comment in this entry, and I will add you. Maybe.
If you have been unfriended, it is for one of the following reasons: Your journal has been inactive for several months, I realized I have no idea who you are or why you're around, or I don't want you reading my journal. Those are the reasons. Deal with them. It doesn't mean I hate you as a person. I never unfriend anyone for not commenting. I realize a lot of us have hefty flists, and commenting is a kind of silly requirement.
Current friends need not reapply.